Missing the Sign
If you saw a familiar white triangular-shaped highway sign that had a red border but the letters were missing, would you recognize the shape and know exactly what to do? It is one of the most frequently missed questions on driver's licenses tests. But, it contains a powerful message for driving as well as for customer service.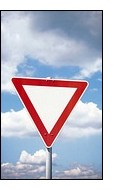 Sometimes when a customer is upset or disappointed we do know recognize it. And, ignoring the signals, we barge ahead and leave a disappointed customer in our path. We don't miss the angry customer! It is the quiet, smoldering types whose silence and stoic demeanor leave us without a message on the sign. It means you have to stop, look and listen. Stop long enough to create a space for dialogue and understanding; look like you truly care; and, listen like you were at a raffle hoping to hear your name called.
The sign…for those who have not figured it out yet…is the yield sign. It is etched in red to signal impending danger if its warning is ignored. It has a white background to stand out day or night. The message for customer service is the same. Stop, look and listen all the time to what your customers are not saying, but would plainly (and sometimes bluntly) tell you if you took the time to hear.


© Chip Bell Group, 2013. Courtesy of John R. Patterson (www.johnrpatterson.com). Permission is given to download and distribute this article as long as it contains this copyright notice. For other short articles visit our blog site at www.taketheirbreathaway.com