Mentoring: How to Be a Learning Coach
Mentoring is not a program. It's a process. Success calls for creative ways to foster learning, improvement and everlasting experimentation on-the-job and whenever needed. Today's mentors focus on creativity rather than control; on helping people get smart, not just get ahead. Mentoring is a one-to-one relationship that can be supervisor to associate manager to someone other than a direct report, or even peer-to-peer. Being a great coach or a leader in the organization does not mean someone is automatically a great mentor. The skills for a learning relationship are unique and distinctive. Based on Dr. Bell's internationally best-selling book, Mentoring: How to Be a Learning Coach is a fun and powerful one-day workshop that gives participants concrete perspectives, practical techniques, and put-into-practice tools for effectively managing employee growth. Participants leave Mentoring able to:
Understand the mentoring relationship in a new way
Level the learning field through by developing greater rapport
Create a comfortable and exciting learning relationship
Provide advice and feedback without getting resistance
Insure relevant focus while transferring knowledge and experience
Help protégés become self-directed learners.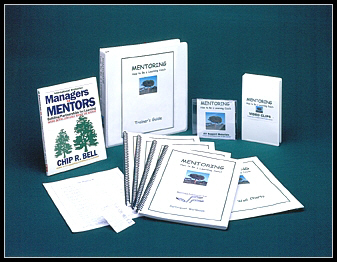 Mentoring: How to be a Learning Coach Resource Kit
Our professional facilitators can customize each program to ensure relevance to your organization. All programs have several features in common: they are highly participative, rely on rich, new content (not just "the same old stuff with new labels"), have options to accommodate scheduling challenges, and emphasize immediate back-home application. Participants get a detailed workbook, assessment instruments, and special job aids. Train-the-trainer programs include a detailed trainer's guide, a lesson plan, a video, audio-visual tools, wall charts, and other resources to enable your facilitators to deliver a powerful learning experience. For more details contact john@johnrpatterson.com.