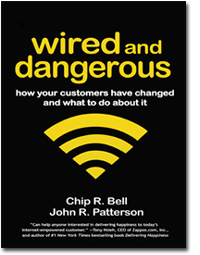 Wired and Dangerous, the international bestseller by Chip R. Bell and John R. Patterson, (Berrett-Koehler), is available now in bookstores or your favorite e-seller.
Customers today are picky, fickle, vocal, and "all about me" vain. They are also empowered and wired. Like it or not, the Internet has tipped the balance of power and forever changed the way customers and organizations interact. A single snarky video or damning review gone viral can bring down an entire company. This book provides a tested formula for transforming today's edgy customers into eager partners.
For more information about Keynotes, Workshops and more, visit Chip Bell's website at: chipbell.com and John Patterson's website at johnrpatterson.com
For more information about Wired and Dangerous, visit John & Chip's Blog at: taketheirbreathaway.com




Watch the Wired and Dangerous Video:
click here

View the Wired and Dangerous Book Trailer:
click here

Order Wired and Dangerous from your favorite online e-tailer
Acclaim for Wired and Dangerous
"At Zappos, we found that the more we invested in customer service, the more loyal our customers became. Wired and Dangerous can help anyone interested in delivering happiness to today's internet-empowered customer."
-Tony Hsieh, CEO of Zappos.com, Inc. and author of the #1 NY Times Best-selling author of "Delivering Happiness"

"…provocative insight, an irresistible page turnings look at the empowered customer."

"Bell and Patterson explain how to master the new service paradigm -- a partnership between you and your customers. Their rich stories and practical advice will prepare you to give up the control needed to make these partnership covenants succeed."
-Charlene Li, co-author of the best-selling Groundswell; Fast Company selected her as one of the most creative business minds in the world.

"As Chip and John relay in this book, a good customer relationship is governed by honesty, caring, forgiving, lack of judgment, flexibility, and a willingness to try again. If leaders brought these values to the workplace the world would indeed be a better place….and customers would be happier too."
-Cheryl A. Bachelder, CEO, Popeyes Louisiana Kitchen

"Wired and Dangerous should be mandatory reading for anyone with a customer! The only downside would be a reduction in the creation of viral YouTube Music videos!"
-Dave Carroll, singer/songwriter and creator of "United Breaks Guitars"

"When you include your customers in your business you build an army that grows your business for you. Using their mouse, voice and influence they will become your greatest megaphone! Chip and John show how the new normal customer can create the prosperity all businesses desire."
-Jeanne Bliss, author of Chief Customer Officer and I Love You More than My Dog: Five Decisions for Extreme Customer Loyalty

"This will be on the test: If you want customers to come and play in your backyard, read Wired and Dangerous and then deliver what Chip and John will teach you."
-Jim Blasingame, Host of the Small Business Advocate® Show