Creating Passionately Devoted Customers
Today's customers are different. To stay ahead, the way you approach customer service needs to be as well. Customers choices are greater, their requirements more demanding, and their expectations appear unreasonable—good, fast, cheap and my way! To stay competitive units and organizations must not only focus on customer retention and loyalty, they must move to creating that emotional connection we call "devotion."
Creating Passionately Devoted Customers is a fun, powerful one-day training program that provides cutting edge ideas, put-into-practice techniques, and exciting methods for dramatically raising the bar on the customer's emotional and brand connections with your organization. It is based on the compelling research of Dr. Chip Bell, best-selling author and one of the world's leading authorities on creating leading brands through remarkable service. This program is NOT your typical customer service program. It is for groups that know the basics and are doing the right things. The best service providers in the world don't deliver the same customer service others do, only better; they approach the customer in ways that are fundamentally different and completely unique. Creating Passionately Devoted Customers enables employees and leaders to:
Understand and appreciate the value of customer devotion
Learn a process to brand the customer experience they influence
Gain solid skills in how to turn a satisfied or loyal customer into a devoted one
Use cost-effective approaches for leaving customers amazed
Acquire concrete confidence in their ability to attract and retain devoted customers
Understand their role in creating a unit or organization famous for remarkable customer service
Develop a plan for insuring sustained customer devotion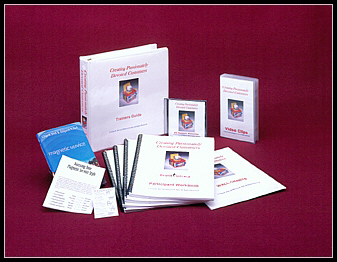 Creating Passionately Devoted Customers Resource Kit
Professional facilitators can personalize each program to ensure relevance to your organization. However, all programs are highly participative, rely on rich, new content (not just "the same old stuff with new labels"), options to accommodate scheduling challenges, and emphasize immediate back-home application. Participants get a detailed workbook, instruments, and special job aids. Train-the-trainer programs include a detailed trainer's guide, lesson plan, video, audio-visual tools, wall charts, and other resources to enable your facilitators to deliver a powerful learning experience. For more details contact john@johnrpatterson.com.